Vanuatu Delegate Call for Applications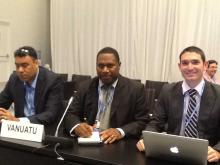 Call for Applications
Vanuatu Delegation - 2015 UNFCCC Climate Change Conference
The National Advisory Board on Climate Change and Disaster Risk Reduction (NAB) is implementing a UNFCCC engagement program in the lead up to the UN Climate Change Conference of the Parties (COP), to be held in Paris, France in late 2015.  In an effort to strengthen and broaden Vanuatu's international climate change negotiating capacity, the Government of Vanuatu has adopted an open and transparent process for the selection and participation of delegates at COP21.
Vanuatu's UNFCCC taskforce is now inviting applications for delegates.  All proposed nominations must meet the required skills and selection criteria, commit to pre and post COP engagement activities, sign and adhere to a TOR and code of conduct, and be committed to obtaining their own funding for participation.
Delegate Skills Desired
Appreciate international considerations for climate change decision-making;
Appraise the key issues in the ongoing international climate change negotiations,
Maintain a focus on cross-sectorial issues so that the country position is consistent in different related sub-issues.
Monitor the negotiation process, and securing the most important documents for the negotiations.
Ability to formulate and draft text (legal writing skills)
Take notes in specific negotiations so that it is possible to follow the (changing) positions of other countries.
Stay up to date with and follow the approved Negotiation Positions outlining what deliverables Vanuatu government expects.
Defend key concepts and negotiating positions.
Technically explain why existing text is or is not acceptable to Vanuatu
The following essential criteria will be used by the COP delegate selection committee:
Prior experience in international negotiation or high level decision making
Participation in past negotiator training programs
Financially resourced (all nominated delegates should source their own funding)
Technical expertise in at least one key area of negotiation
All interested individuals must DROP OFF IN HARDCOPY 1) a letter of interest addressing the above criteria and 2) Curriculum Vitae to: Mr. Jesse Benjamin, UNFCCC Taskforce Chair, Department of Energy, Ministry of Climate Change, Namba 2 Area, Port Vila.
Applicants received after 14/8/15 at 4:00pm will not be considered.