WHO and UNDP launch US$17.85 million Global Environment Facility-funded project supporting climate resilient health systems in Kiribati, Solomon Islands, Tuvalu, and Vanuatu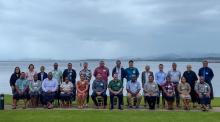 The United Nations Development Programme (UNDP) and the World Health Organization (WHO) are launching a new partnership today to support four countries - Kiribati, Solomon Islands, Tuvalu and Vanuatu - to increase their resilience to climate change. Representatives from each country and both organizations are meeting in Suva, Fiji and online to begin planning the implementation of the five-year project. An injection of US$17.85 million in funding from the Global Environment Facility (GEF) makes this one of the largest and most ambitious projects to date aiming to increase health system resilience in the Pacific. Each of the four Pacific Island countries is also contributing funds to co-finance the work.
"We know that the health impacts of climate and environmental change are already being felt here in the Pacific and, on our current trajectory, things are just going to get worse," said Dr Mark Jacobs, Director of Pacific Technical Support and WHO Representative to the South Pacific. "Yet, while these countries have contributed so little to the creation of the problem, they often find it difficult to access the level of funding required to counter this increasing health crisis. So that's why we are grateful to UNDP and GEF for this support which will enable Kiribati, Solomon Islands, Tuvalu and Vanuatu to take meaningful action to keep their health systems running, identify health threats early and save lives."
Climate change is already causing a range of significant health impacts across Pacific island countries and areas. Increasing drought and flooding can lead to shortages or contamination of safe water sources, increasing the risk of water-borne diseases. The increasing difficulty of growing affordable, healthy food locally is leading to poor nutrition and noncommunicable diseases in many Pacific populations. Meanwhile, increasing climate-induced extreme weather events and sea-level rise are disrupting the operations of health facilities and the broader health system.
In response, this project has the potential to enhance the capacity of national and local health systems to manage these health risks:
"Kiribati, Solomon Islands, Tuvalu and Vanuatu are among the countries most susceptible to climate variability and change, which has exacerbated the health impacts from communicable and non-communicable diseases, resulting in elevated rates of morbidity and mortality. The adverse health effects of climate change are particularly severe in countries where health systems already struggle to cope with existing health risks. For these countries, the capacity to adapt to climate change-related health risks is limited," said UNDP Pacific Office in Fiji Deputy Resident Representative, Yemesrach Workie, "UNDP, therefore, is very pleased to partner with the WHO and the Governments and people of these four countries to implement this project and advance the health commitments made at COP26. Working to make a real difference in the lives and livelihoods of people in the Pacific, this project will help enhance the capacities of national health systems and institutions to manage long-term climate-sensitive health risks. The project will also foster partnerships between the four countries and beyond the health sector to promote further efforts to adapt to and mitigate climate change."
"This project can definitely serve as an entry point for further discussion and action on climate change," WHO's Dr Jacobs continued. "After all, while many of the effects of climate change are felt heavily in the world of health – that is, via increased injuries, illness and, sadly, deaths – a lot of the underlying causes are the responsibility of other sectors such as construction, energy and transportation. So, wherever we can, we will use this as an opportunity to promote collaboration and help these other sectors to gain the support they need to take the climate action that will benefit health."
For more information on the project, visit: 'Building Resilience of Health Systems in Pacific Island LDCs to Climate Change'
About UNDP:
UNDP is the leading United Nations organization fighting to end the injustice of poverty, inequality, and climate change. Working with our broad network of experts and partners in 170 countries, we help nations to build integrated, lasting solutions for people and the planet. With decades of experience in the region, the UNDP Regional Bureau for Asia and the Pacific has 24 Country Offices orchestrating work in 36 countries. Learn more at undp.org or follow @UNDP.
About WHO:
The World Health Organization (WHO) is the United Nation's specialized agency for international public health. In the Pacific, WHO's Division of Pacific Technical Support provides tailored, timely support to 21 Pacific Island countries and areas. Our main office is in Suva, Fiji, and the Division has six other offices across the region: The Federated States of Micronesia, Kiribati, Samoa, Solomon Islands, Tonga and Vanuatu.
By Joint News Release, Suva Fiji
Country:
Vanuatu
Solomon Islands
Tuvalu
Kiribati