PARTneR Project will develop a Natural Hazard Risk Tool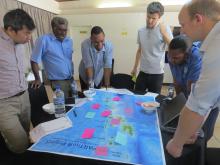 Early this year, a team of NIWA researchers, SPC technical staff and staff from the Vanuatu NDMO and Geoscience Division successfully implemented a case study design workshop in Port Vila and produced the risk tool design document which will be the blue print for the implementation of three case studies in Vanuatu. They have also identified and collated the relevant risk information and data required for the case studies. 
PARTneR: Pacific Risk Tool for Resilience (NZ MFAT-funded) project is a collaborated effort by the New Zealand National Institute of Water and Atmospheric Research (NIWA- project lead), GNS Science in New Zealand, and the Pacific Community (SPC) Geosciences Division technical staff alongside the Vanuatu Disaster Management Office and the Vanuatu Geo-hazards and Meteorology Division. 
This 3 year project aims to tailor a risk modelling and mapping tool called 'RiskScape' for local and central government application in development and disaster risk management decision making. This project will benefit the government of Vanuatu by providing a tailored risk assessment tool for use in addition to providing customized training to key government staff. 
PARTneR will also provide the opportunity for Vanuatu to systematically gather and manage available risk information, develop risk scenarios for decision making and provide a sustainable tool for staff to use in the future. PARTneR will also reduce organization's workload by improving data management, and streamlining risk assessment and decision making processes through the use of this tool.
For  more information, please contact Shadrack Welegtabit, Director - NDMO
By Kate Crowley
National Disaster Management Office