The Commonwealth's Climate Finance Access Hub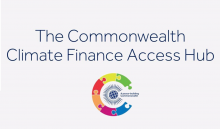 The Commonwealth's Climate Finance Access Hub is assisting Vanuatu in its efforts towards climate change financing. The Hub has placed a National Climate Finance Adviser within the Ministry of Climate Change in Port Vila. The National Climate Finance Adviser's role is to be the link between Vanuatu and the resources of the Commonwealth's skill hub to support national efforts to access and effectively use international climate finance.
The adviser will assist in building the human and institutional capacity of Vanuatu to gain climate finance accreditation, through comprehensive financial public management reforms, as a national implementing entity under the GCF and other financial mechanisms of the UNFCCC, so that it can directly access climate finance and have greater ownership and direction of funding solutions to the climate change impacts it faces.
The Climate Finance Access Hub is an initiative of The Commonwealth with generous support provided by the Government of Australia and the Government of Mauritius.
The Commonwealth also recently published its 'A Sustainable Future for Small States: Pacific 2050' report which features Vanuatu in a series of chapters on different topics impacting on the Pacific region including climate change
The Commonwealth is a voluntary association of 52 independent and equal sovereign states. The Commonwealth is home to 2.4 billion people and includes both advanced economies and developing countries. Thirty of its members are small states, many of which are island nations. Its shared values and principles are inscribed in the Commonwealth Charter.