Ambae Recovery Phase Update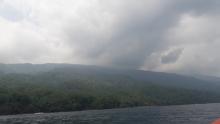 An account of the Ambae situation reported on the 15 Nov by Disaster officer, Manson Taridenga addressed existing issues and needs currently facing the people of Ambae.
As part of the recovery program for the Ambae repatriates, the Water and Sanitation Cluster are cleaning and testing water quality in wells, tanks and carrying out water and sanitation awareness at the same time.
"Though a few wells have been declared safe, there is still fear of it still being contaminated as acid rain continuously falls especially in the West and Southern part of Ambae."
"The acid rain is a new thing to live with for the people of Ambae" says officer Manson. "Its negative impacts can already be seen in the growth of vegetables like cabbages and thus forcing some to move further North to the coastal areas."
In regards to food, the Food and Agriculture Organisation will be providing technical assistance this week while the Health cluster continues to monitor any possibility of a disease outbreak.
Most of the people of Ambae are consuming foods beared above ground like bananas if not too spoilt by acid rain, before moving to consuming root crops. Meanwhile, root crops are slowing being dug up everywhere by animals.
"The current needs at this time would have to be water, food and Awareness programs" states Manson. "The supply of food and healthy water is crucial at this time for their survival and they need to know how to better adapt to the current situation through awareness programs."
The disaster committee and the provincial government is currently seeking for NGO's assistance towards Ambae's long term plan.