FAO Launches New FAOSTAT Website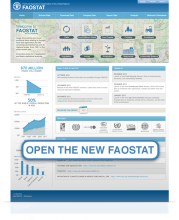 December 2012: The Food and Agriculture Organization of the UN
(FAO) has released a new interface for FAOSTAT, providing a new easy
platform for food and agriculture statistics. FAOSTAT includes raw data,
analyses and tools to compare data across a series of thematic areas. The
data cover 245 countries and 35 regions from 1961 to the present.
The platform includes innovative tools to visualize data and perform
statistical analyses across various areas, including: trade; food balance
sheets; food supply; population; prices; production; forestry; investment;
resources; and commodity balances. New launches of information areas on
greenhouse gases (GHG), food security, and agri-environmental indicators
are expected over the coming months.
Partners in the development of the portal include: the International Food
Policy Research Institute (IFPRI); the International Labour Organization
(ILO); the Organisation for Economic Co-operation and Development (OECD);
the UN Framework Convention on Climate Change (UNFCCC); the UN Statistics
Division; the World Bank; and the World Trade Organization (WTO).
Visit it at http://faostat3.fao.org/home/