El Nino Drought Preparations Underway on Nguna, Pele and Emao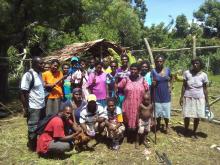 This week, the Ministry of Agriculture and SHEFA province are holding El Nino drought preparation workshops for over 100 community representatives from each village on the islands of Nguna, Pele and Emao.  Through the Swiss-German GIZ-DEZA program, community disaster gardens are being rehabilitated with drought-tolerant crops and improved planting techniques.  After Cyclone Pam in 2015, the GIZ-DEZA program quickly established community food gardens in each community on Nguna, Pele and Emao, which yielded a surplus of green vegetables that greatly improved diets and health among the islands.   Unfortunately, the current El Nino event has made planting vegetables in 2016 extremely difficult.  
The Ministry of Agriculture's 2016 GIZ DEZA program is upgrading community gardens so that they are drought-tolerant. Tunnel houses are being constructed which, covered with shade cloth, allow sensitive vegetables to continue to grow. Combined with improved farming techniques like drip irrigation, mulching, shade tree intercropping, use of grey and recycled water, application of animal manures and green fertilizers, and the use of drought-tolerant crops like manioc and pineapple, the community gardens aim to ensure that the people of North Efate's offshore islands are able to cope with what in the coming months is expected to be the most severe drought experienced in Vanuatu for decades.  
The workshops being held on Nguna, Pele and Emao this week have brought in community representatives from each of the 22 communities on these islands.  Expert farmers from North Efate who have been involved in past Ministry of Agriculture projects (like the EU NARI program), are on hand to provide their long experience and techniques for raising crops and chickens in drought conditions.  Extension officers from the Department of Agriculture and Department of Livestock are facilitating the trainings which include theory and hands-on practice.  Officers from the GIZ climate change program are helping to translate the official El Nino forecasts of the Vanuatu Meteorology & Geohazards Department into messages that are most useful to the community vegetable and poultry farmers, as well as help participants understand how El Nino preparation fits into the larger climate change adaptation and disaster resilience programs of each village. 
Mr. Ian Kalsuak, SHEFA province's area council development officer, commented to participants that "decentralization is really about communities taking ownership of the disaster preparation and response in their areas, linking into area-wide activities and provincial and national programs. By taking action together now to prepare for the worsening El Nino drought, we are contributing to the sustainable development of our islands and our province." 
In addition to focusing on community disaster food gardens, the Ministry of Agriculture is launching a public-private partnership approach to food security response to the El Nino drought on Nguna, Pele and Emao.  Over 400 households on these islands will have the opportunity to apply for one of three subsidized food security interventions: backyard vegetable gardens, backyard poultry or solar dryers.  The household will be expected to cover 50% of the overall cost, while the Ministry's GIZ-DEZA program will meet the remaining expenses.  
Ms. Rolyn John, extension officer of the Department of Livestock explained that "in the past, we found that when individuals were given free materials for poultry projects, they did not value the project and the materials were not used for the intended purpose.  By requiring that individual households contribute half of the costs, we hope that the people of Nguna, Pele and Emao will take this food security intervention seriously and invest their time and energy into raising varieties of chickens that are more tolerant to drought and will produce eggs and meat over the coming months. This activity is part of the 2016 Year of Small Livestock under the Ministry of Agriculture." 
Backyard garden activities will provide participating households will all of the materials required to grow vegetables in their own backyards.  Growing crops close to home will increase the chances of their survival during the El Nino drought, mostly due to the extra water available around houses.  Waste water from bathing, washing dishes and laundry will be collected and used to water the backyard vegetables.  Shade cloth and fencing will keep plants cool and protected from roaming animals.  Backyard gardens will make it possible for each participating household to have a regular supply of tomatoes, cabbage, beans and other crops throughout the drought.  
"The 2016 El Nino is going to be very difficult for our farmers, and everyone is going to have to make changes and adapt we plant food this year.  We need to think carefully about the planting techniques we use, where we plant food, and how we care for our crops.  This program is looking ahead to the dry season which is going to be much worse than we have seen for a long time.  The farmers of Vanuatu should not have to depend on unhealthy imported food like rice and tins to feed ourselves during this El Nino drought, we can plant our own food and keep our food security strong," said Mr. Keith Amos, extension officer of the Department of Agriculture and focal point for the Ministry of Agriculture's DEZA-GIZ El Nino program on Nguna, Pele and Emao. 
For More Information on the Ministry of Agriculture's El Nino program on Nguna, Pele and Emao, contact Mr. Keith Amos, Department of Agriculture or email vanuatuclimatechange@gmail.com