Church leaders learn to teach others about Disaster Management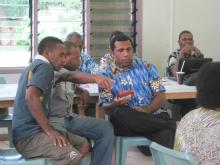 Twenty-four participants from eight Christian Churches and organizations learnt to run 'Joj blong yumi I help long taem blong disasta' workshops this week.
The workshop covered twelve key topics including the role of the Church in disaster management, identifying risks, making a response plan and a disaster basket and giving out disaster supplies.
The workshop was held at the VCC Conference Room in Port Vila with participants coming from Port Vila and Santo. The workshop was made possible and facilitated by the Vanuatu Church Partnership Program and ADRA Vanuatu with funding from AusAID, Australia's international development program.
Participants are now equipped to teach others about disaster management and the role of Vanuatu's Christian Churches in helping others come prepared and survive disaster hazards.  
For copies of the training manuals used in the program, go to the NAB website Resources page.