Vanuatu Youth Climate Summit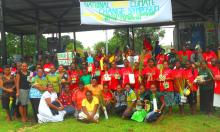 Vanuatu Youth Climate Summit
In December this year the world's governments will gather in Paris for the 21st United Nations Climate Change Conference of the Parties. This summit is an opportunity for them to reach the first ever universal and legally binding agreement on carbon emissions reductions. The contents of this agreement, and whether or not an agreement is reached, will have profound impacts for the youth of today, particularly in island nations like Vanuatu, as they are the generation that will face the full impacts of climate change. But they are also the generation who can show leadership.
On August 14th 2015, in the run-up to the actual United Nations Climate Conference in December, we will be holding the Vanuatu Youth Climate Summit, an opportunity for youth to show that leadership and develop climate solutions. Using the World Climate program developed by leading climate scientists and trialed across America, Vanuatu will host a simulated version of the climate negotiations. Youths will be divided into teams representing the interests of different countries (China, the US, island nations and others) and be presented with the challenge of reaching an emissions reductions agreement that prevents a 1.5 degrees rise in global average temperature.
Through this exercise, youth participants will learn more about climate change negotiations and the United Nations process, and will send a strong message to the world on the importance of reaching an effective and legally binding agreement this year.
Capped at 30-60, the youth participants (age 15-30) will come from Vila-based schools, youth groups and USP. In order to prepare participants for the exercise there will be a pre-negotiation workshop held on August 3rd, that will:
explain how the Youth Climate Summit negotiations work;
explain key issues underlying the negotiations
divide selected participants into teams and appoint team leaders.
After the "pre-Summit workshop" and before the negotiations themselves participants will be expected to do a small amount of independent research, to find out more about the country they will be representing, and to help their team produce an opening statement at the negotiations.
The August 3rd pre-negotiation workshop will be approximately two hours long, while the August 14th negotiations summit will last around four hours. Refreshments will be provided at both workshops. Participants will receive a certificate to recognise their involvement in the Youth Negotiations.  The venue will be the conference room at USP.
This is the first time the World Climate programme or any youth climate negotiations have been held in Vanuatu, so a film will be made to capture the event. Participants will also produce a Vanuatu Youth Call for Climate Action, a message that will be conveyed to the Government of Vanuatu, in hopes that the COP21 delegation or the Government carry this message to the actual United Nations summit itself.
This innovative climate event for youth is being organized by 350 Vanuatu and the SPC/GIZ Climate Change program. For more information, contact vanuatuclimatechange@gmail.com or call +678 29594