Vanuatu UNFCCC COP Update 1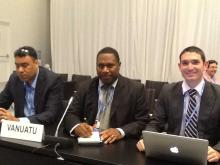 Daily Summary: Monday 26th November, Doha- Qatar
The Vanuatu delegation at the 18th Conference of the Parties to the UN Framework Convention on Climate Change is off to a great start.  The team in Doha is led by Director of Environment Albert Williams.  Also representing Vanuatu are Brian Phillips (Meteo), Sylvain Kalsakau (Foreign Affairs), Christopher Bartlett (Meteo) and Nicholas Chan (Oxford University). 
Today was a productive day as the delegation began by meeting with its counterparts in the AOSIS group (Association of Small Island States) to consolidate its negotiating positions.  Some key AOSIS issues that Vanuatu supports is its desire to see all countries raise their levels of ambition (how much they can do) to reduce greenhouse gasses.  AOSIS also wants to see much more attention given to the issue of loss and damage (that is, an understanding that even with adaptation, there are going to be some impacts of climate change that will cause extensive loss and damage to vulnerable countries).
Soon after consolidating its positions, AOSIS and Vanuatu began its bilateral negotiations with groups like the European Union and the Ad Hoc Working Group on the Durban Platform for Enhanced Action (ADP).  Of note, Vanuatu and AOSIS pushed hard on its position that those countries that do not commit to a second Kyoto period, like the USA, New Zealand, Canada and Japan should not be eligible to participate in flexible emissions reduction mechanisms like the Clean Development Mechanism (CDM).  One delegate likened this scenario to countries wanting to eat the fruit (taking advantage of CDM), while at the same time killing the tree (emitting carbon and not signing up to 2nd Kyoto).
The Official Opening Ceremony of COP18 included speeches from the former Durban COP president, Minister Maite Nkoana-Mashabane of South Africa, current Doha COP president, H.E. Abdullah bin Hamad Al-Attiyah, and Executive Secretary of the UNFCCC Ms Christiana Figueres.   Ms Figueres made a point that it is up to delegates to work together and find solutions to this 'greatest of all global issues.'
Vanuatu delegation members strongly supported statements made in plenary by Nauru that climate change is already affecting our people severely and that governments need to take these issues much more seriously.  One young man representing a global NGO, made a statement at the end of the plenary that if climate change solutions are not forthcoming at Doha, we will face a new era of 'climate genocide'.
Tomorrow, Tuesday 27th Nov, Vanuatu has further bilateral negotiations with New Zealand, and will begin to enter into technical discussions on Fast-Start Finance, Gender and Climate-Smart Agriculture.