Vanuatu's First Community-to-Community Resource Management & Climate Change Solution Exchange Event Underway at Nguna-Pele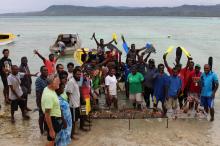 27 August 2015
This week, Vanuatu's Nguna-Pele Marine and Land Protected Area Network is hosting a first-of-its kind community-to-community exchange on climate change adaptation and natural resource management.  Pulling together over 50 of the most active community-based resource management champions from TORBA to TAFEA provinces, the week-long event is a chance for participants to share and learn from each other in a hands-on way the most locally effective conservation strategies and activities. 
From day one, it was found that the participants had a combined 201 years of experience in managing natural resources in Vanuatu.  This astounding realization highlighted the fact that no one better than ni-Vanuatu community experts themselves know best how to adapt to climate change and protect the environment.  This event began with a strong call for communities, with their wealth of traditional and modern knowledge, to take the strongest leadership in managing Vanuatu's natural resources sustainably. 
Already this week the participants have undertaken several hands-on training activities, including preserving and storing local foods, planting coral and rehabilitating reefs, constructing fish aggregating devices, controlling coastal erosion through revegetation, caring for backyard Tilapia, using drip irrigation for drought condition vegetable farming and converting fish waste into fertilizer.
Mr Alphons Yemen, a participant from the Banks group, said "this is the right way for Vanuatu to develop; come together and share our own solutions with each other.  What is working on one island by one community, can help so many others.  We need to continue to do this kind of island conservation exchange to help us help ourselves."
This event builds on years of challenges and successes, trials and innovations done by the Nguna-Pele Marine and Land Protected Area Network, the first time in Vanuatu a group of communities has joined together for the purpose of improving the livelihoods of their people by supporting each other in conservation.  Since Nguna-Pele took the network approach in 2003, several other communities have replicated this model of community-to-community support and collaboration.  Now even the Government of Vanuatu is following the approach pioneered by Nguna-Pele.  George Amos of the Vanuatu Fisheries Department worked with participants to understand the critical links between climate change adaptation and the use and management of nearshore fish aggregating devices. "Your job as trainers is to have a ripple effect back in your own communities.  It is you as community trainers and role models that have the most impact in changing minds for better management of natural resources."
Vanuatu heavyweight boxing champion Kalie Jacobus is also a well-known conservation leader, and one of the participants in the train-the-trainers event this week.  He led an exciting session with the entire island of Pele in a "fighting not drowning" climate change-boxing campaign that saw local youth and conservation champs from other islands get in the boxing ring for a chance to show their strength and resilience in the face of climate risks. 
With the event due to close on the 29th of August, the participants have many more new and exciting resource management and climate adaptation solutions to share with each other.  A DVD documentary of the event is being compiled and will be available to support all communities take action into their own hands.  Thanks to Wan Smolbag's Vanua Tai Network, Island Reach, the Department of Environmental Protection & Conservation, Vanuatu Environmental Science Society, the Vanuatu Fisheries Department and SPC/GIZ for supporting the community champions expand their impact to the nation.   For more information, contact vanuatuclimatechange@gmail.com