Vanuatu's Fest Napuan Festival makes Change for Climate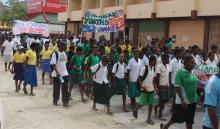 This year Vanuatu's Fest Napuan music festival became the mouthpiece for climate change resilience in the Pacific.  The extra-special 20th Anniversary of the Fest Napuan included daily events focused on climate change and disaster risk reduction as part of Vanuatu's preparations toward the United Nations Climate Change Conference in Paris at the end of 2015.   
Vanuatu is fighting for its very survival because of climate related disasters.  Cyclone Pam wiped out the country's homes, gardens and even the national economy.  But despite these losses, and the damages now being caused by the El Nino drought, Vanuatu is as determined as ever to see a new legally binding global climate change agreement reached in Paris this year.  Like the theme of Fest Napuan, Vanuatu's resilience, commitment and music is "still booming"!
The climate and disaster events kicked off on the first day of the festival with a huge public climate action march.  The Minister of Climate Change, the Honorable Jérôme Ludvaume gave a motivational speech, and his Director General, Mr. Jotham Napat, told the crowd that "a climate agreement in Paris will be the difference between life and death for the people of Vanuatu".  It is up to Vanuatu and other small island developing states to make sure that all countries provide extra support to help them adapt to and recover from severe climate change, including disaster like Cyclone Pam. 
Climate change doesn't affect us all equally, and the most vulnerable are usually people in remote communities, women, people living with disability and youth.  The second day of the festival saw a public panel discussion on how the most vulnerable people are both suffering from and adapting to the negative impacts of climate change.  A special women's booth was set up to help women tell and record their personal stories of how climate change is affecting their lives.  These stories will be used by the Vanuatu negotiators in Paris to convince developed countries that they must provide new, additional and easily accessible finance to help Vanuatu cope with climate change.
One of the most important activities was the screening of films and public awareness materials about climate change and what will happen at the United Nations climate conference.  Video clips and statements of climate solidarity from local musicians, members of parliament, and even international celebrities like Jackie Chan were shown to the public, helping everyone in Vanuatu to see just how global the climate change issue really is, and that solutions in Paris will require commitment from everyone.
Local NGOs and Government Departments were on hand the entire week at Fest Napuan to display and share information on climate change and disasters.  Oxfam led a day of health and climate change activities; declining health is one of the most dangerous consequences of climate change to us here in Vanuatu.  Other agencies displayed information on environmental damage, traditional knowledge, gender, agriculture, and even the El Nino drought we are facing. 
The musicians themselves competed for the best lyrics and performance of climate songs.  Through music they told us that the only way to slow down climate change is to reduce emissions of greenhouse gases that largely come from burning fossil fuels to make energy.  Lyrics from the bands shared solutions of renewable energy like solar, wind and hydro as well as using more efficient appliances.  Demonstrations on renewable energy by the Department of Energy, UNELCO, GIZ, URA and private companies drew huge interest from the public.  Even the Fest Napuan stage was lighted with solar lights! A solar for preserving fruits and nuts was on hand for the public to see and learn how to make themselves. 
The most uplifting part of Fest Napuan's climate change and disaster risk activities was when school children from over 10 local primary and secondary schools took part in Fest Tamariki, with poetry, dance and singing to showcase their messages for climate change to take to the UN climate change conference.  These young people gave the world a call to wake up and urgently take action on the climate crisis that is affecting our islands and our very way of life.  
Without a doubt, this year's Fest Napuan was the best ever, and the climate change and disaster activities have given Vanuatu's negotiators a real mandate to fight for a strong agreement in Paris.  Thanks to the Ministry of Climate Change and the German Agency for International Cooperation (GIZ) for the finance and technical organization of this year's outstanding event!
For more information, visit the Fest Napuan website  http://festnapuan.info/ or email vanuatuclimatechange@gmail.com.