World Ozone Day and World Clean-up Day Celebrations a Success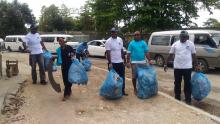 On 22nd September, the Department of Environmental Protection and Conservation hosted festivities for World Ozone Day and World Clean-up Day at Independence Park and its​ neighbouring areas in Port Vila.
More than 150 people participated in this event, including five representatives from each Government Ministry. The National Bank of Vanuatu, Seaside Youth, L'anabru Youth, Tagabe Youth from 21 Jump Street, Le Lagon Youth, a cricket team, the Police Force, and the Erakor Bridge Community also participated in the clean-up of the lagoon. Notably, the Police Commissioner and his team were very actively involved in this half-day clean-up.
The main purpose of this event was to demonstrate that civic engagement happens at all levels of society, from youth to Government leaders, and to educate the public that everyone has the obligation to help keep the nation clean.
The clean-up took place in the École Collardeau area, Seaside, Independence Park, Number 2, and Number 3. The key message put forward was that waste is both our business and our responsibility.
Hon. Minister Ham Lini, the Director of the Department of Tourism, the Vanuatu Police Force Commissioner, VESS CEO Dr Christina, and a civic leader from Erakor Bridge Community gave speeches to commemorate this occasion.
The public commented that next year the event should be a one or two-day event, rather than a half-day event.