Vanuatu Rural Electrification Project lights up rural households in Tanna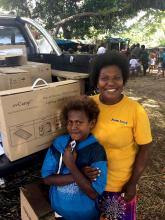 The Government of Vanuatu through the Department of Energy (DoE) provided solar electricity systems to the people of Tanna on a recent trip from 27 July to 5 August.
The visit to the island was part of an awareness program for the New Zealand-funded program known as "Vanuatu Rural Electrification Program" (VREP), aimed to increase rural household's access to basic lighting and phone charging capabilities using subsidised 5-30 watts 'Plug and Play' solar systems. The project began in 2016.
A total of 223 solar products were sold during the visit and an additional 5,000 people received information regarding how they can obtain a VREP subsidized solar system. The solar systems are internationally accredited and come with a two year warranty.
Upon purchasing a solar system, Mrs. Marie Willie (right) from Enamakel village said, "It usually costs me VT100 to get my phone charged. Now with my solar home system, I will be able to have very good and bright lighting and communicate with families and friends without ever worrying about my phone going dead."
Since its launch in 2016, 2,000 VREP solar systems have been sold in more than 40 islands throughout Vanuatu. The solar systems are subsidised at half of the retail price and the government has agreed to maintain the subsidy in 2017. The DoE is urging customers to capitalize on this opportunity before the year ends.
Currently, there are two local companies, Power & Communications Solution (PCS) Limited and e-Tech Limited approved to sell VREP's lighting products to consumers in Vanuatu.
The Government aims to reach 100% electrification by the year 2030, as laid out in the National Energy Roadmap.
For more information on VREP, contact DoE on 25201/33425 or email the project team on vrep@vanuatu.gov.vu. To know more about the VREP subsidised solar systems, contact the authorised vendors, e-Tech on 26933 (Port Vila)/36977 (Santo) and PCS Limited on 25945.
By Department of Energy, Ministry of Climate Change Adaptation