Vanuatu Review & Update Climate Change & Disaster Risk Resilience Policy (Adaptation and DRR Planning)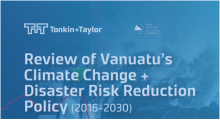 The Regional Pacific NDC Hub, through the Pacific Community (SPC), supported the Department of Climate Change, Ministry of Climate Change (Republic of Vanuatu) with a thorough preparatory review of the Climate Change and Disaster Risk Reduction (CCDRR) Policy 2016-2030 to ensure coherence with the existing national, regional and global frameworks. As policy coherence for sustainable development is at the heart of the National Sustainable Development Plan (NDSP), the policy review is expected to enhance the resilience of the built-environment, natural environment, economy, and the community against impacts of climate change and disaster risks.
The policy brief explores the challenges faced in disaster risk governance in relation to the climate emergency and the following components:
National Climate change and Disaster Risk Reduction priorities are captured.
Alignment with the National Sustainable Development Plan (NSDP) 2016 – 2030.
Increased coherence with global and regional frameworks and commitments (Paris Agreement, Sendai Framework, Sustainable Development Goals, and the Framework for Resilient Development) by the country.
The preparatory review identified six strategic priorities to attain the goal of "resilient development" for CC and DRR: governance, finance, knowledge and information, climate change adaption and disaster risk reduction, low carbon development, and response and recovery. It also evaluated Vanuatu CCDRR Policy 2016-2030 using the OECD evaluation criteria, providing recommendations for revising the current document.
The study has assessed the alignment with 17 policies and plans (14 national policies and plans, one regional framework, and two global frameworks for climate change and disaster risk reduction) across six strategic priorities of the CCDRR Policy.
The Vanuatu CCDRR Policy (2016-2030) was developed by the Government of Vanuatu with the support of United Nations Development Programme (UNDP), Pacific Community – German Agency
for International Cooperation (SPC/GIZ), and the Australian Government, to create resilience in the
communities, environment, and economy to tackle the impacts of climate change and disaster risks.