VANUATU MOBILE FORCE CONTINUES TO ASSIST AFFECTED COMMUNITIES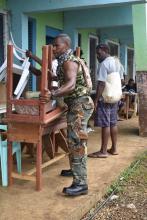 The devastation left by (TC) Harold in the last couple of weeks has left many in great need. Remarkable efforts have been made during the eye of a crisis from different responders that have been a constant support to the National Disaster Management Office (NDMO).  
The Vanuatu Mobile Force this week sent out a team of the Vanuatu Mobile Force (VMF) force members to continue to deliver law and order in the current situation to the affected communities. An additional part of their field assessment aid with enduring law and order in not only to provide law and order in times of a disaster but also to assist with coordination of relief supplies in the affected communities.
Since their deployments, Communications officer to the onsite Emergency Operation Center in Melsisi, Fern Napwat has confirmed reports that the 20 member team have been a tremendous support to the community in Melsisi and other parts of Pentecost.
This week the team have supported communities with fixing broken water pipes, repairing and providing maintenance to school's furniture and others. The team mostly made up from the VMF Engineering Department are deployed for two weeks to work closely with the onsite Emergency Operation Centers (EOCs) in Pentecost and Ambrym.