Vanuatu delegation attending COP25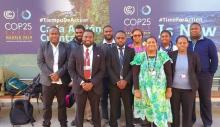 A Government delegation is attending the 25th United Nations Climate Change Conference in Madrid, Spain.
The national delegation comprises of technical officers from various government offices such as Vanuatu's Ministry of Climate Change (MoCC), Ministry of Finance and Economic Management (MoFEM), Ministry of Foreign Affairs and the Prime Minister's Office.
They participated in high-level meetings and side events on topics that matter to Vanuatu in relation to climate change and its impacts.
The Deputy Head of the Delegation and Director of the Department of Climate Change, Mike Waiwai, took part in a side event and voiced concern on displacement and relocation of people from disasters and climate change in Vanuatu.
Other side events that Vanuatu participated in this week were: 'Climate Law and Governance Day', 'A Leader's Talanoa with Pacific Youth on Ambitious National Determine Contributions (NDCs): Enhancing NDCs to ensure a Resilient and Sustainable Future' and the 'Blue Climate Action: Marine Nature-based Solutions for NDCs'.
A statement from the delegation in Spain conveyed that the key issues negotiated at this year's COP include standardizing the reporting from all parties (Developed, developing and least developed countries) to the Paris Agreement to show how finance meant to fund climate change adaptation and mitigation activities is mobilized.
Also, the terms of reference for the Warsaw International Mechanism on Loss and Damage; that there be a balance between funding going to adaptation and mitigation activities and that the approval process to access the funds through the Green Climate Fund be a flexible and and push for big emitters to increase their ambitions.
The message highlighted at COP25 is that what the earth is currently facing is no longer climate change, but a climate emergency.
This is because the Intergovernmental Panel on Climate Change (IPCC) Special Report on 1.5 degrees backs up what small island states such as Vanuatu are saying: that global temperatures are now on tract to rise by an unacceptable 3.2 degrees Celsius from pre-industrial levels by 2030 and greenhouse gas emissions are hitting an all-time high.
COP meetings are held every year and is attended by representatives from almost all nations to discuss the Paris Agreement Implementation, which is to halt global warming at 1.5 degree Celsius.
It is an opportunity for countries to update their progress on dealing with climate change. The three major areas of political discussions are finance, emission targets and the role of 'big' states.
COP25 will end on December 13 this week.