VANUATU-CHINA FRIENDSHIP ASSOCIATION DONATES TOWARDS TC HAROLD VICTIMS.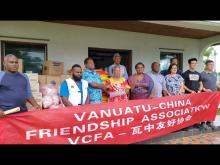 The National Disaster Management Office (NDMO) has received much needed donation from the Port Vila Ambae Disaster Committee as part of the ongoing continuous response efforts by the national government.
The Vanuatu-China Friendship Association first made a handover of food and water items to the Port Vila Ambae Disaster Committee at the Sarabulu church on Thursday, May 7th 2020.
The donation was made toward the Tropical Cyclone Harold victims especially on the island of Ambae and other affected island in the three Northern provinces.
After the handing over, the Port Vila Ambae Disaster Committee donated the food items to the National Disaster Management Office for distribution to the people in need of food and clean water to drink due to TC Harold.
Director of Climate Change Department, Mike Waiwai who is the Incident Controller at the National Emergency Operation Center (NEOC) at NDMO, received the assistance on behalf of Director of NDMO and witnessed by the members of Vanuatu-China Friendship Association and Port Vila Ambae Disaster Committee.
The donation consisted of 100 bags of rice, 50 cartons of water and 50 cartons of tin tuna. There are continuous contributions coming in at the Sarabulu church towards the victims of TC Harold.