USP Regional Disability Scholarship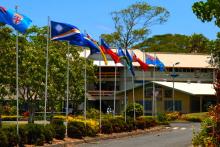 Scholarship will be taken at the Laucala Campus in Fiji.
Eligibility:
In order to take up scholarship applicants must:
Apply by the due date and provide all required documents;
Submit an admission form for an undergraduate or post- graduate programme;
Be admitted into a USP programme;
Be enrolled in a minimum of 3 courses per semester for Undergraduate programme and 1 course per semester for post-graduate programme;
Be living in Cook Islands, Kiribati, Marshall Islands, Nauru, Niue, Samoa, Tokelau, Tuvalu, Solomon Islands, Tonga, Vanuatu and other parts of Fiji except Suva;
Provide a letter from a recognised disability service provider or doctor which clearly states the disability;
Priority may be given to students new to the University; and
The Scholarship does not cover self-funding programmes such as, Preliminary Studies, Foundation studies or Pacific TAFE programmes and MBA.
Submission of Applications:
An application letter detailing your interest in the scholarship, filled admission form and associated requirements must be sent by mail to: The Disability Resource Centre, University of the South Pacific. Private Mail Bag. Suva. Fiji Islands or emailed to disabilitycentre@usp.ac.fj or qeleni_m@usp.ac.fj Applications close on 20 November 2017.
Admission forms can be obtained from any USP campus near you or downloaded from the following link: www.usp.ac.fj/forms
For further information contact: Any USP Campus or email: disabilitycentre@usp.ac.fj or qeleni_m@usp.ac.fj or call us on (679) 3231796 or (679) 3237182 or (679) 3231832
The scholarship will cover:
Full tuition fees. Continuation will depend on the student obtaining a GPA of 2.5 per semester and above. If students fail a course, they will be put on a probationary period for 1 semester and the cost to repeat that course will not be covered by the scholarship. The student will be counseled accordingly to improve grades;
Return air travel – payment of a single return, economy class airfare to and from Fiji;
Contribution to living expenses;
General health service fee to access the Universities Health facility;
General service fee (paid to the university);
Hostel accommodation; and
Establishment allowance.
Supplementary: The University's Disability Resource Centre (DRC) will provide additional support to ensure students' academic success through the provision of sign language interpreters, buddies and mentors. DRC will also make appointments for students to meet their lecturer/tutor to discuss reasonable accommodation during teaching and learning. For more information on DRC you can visit: www.usp.ac.fj/campuslife/drc

USP Regional Disability Scholarship
Download
(49.67 KB)

USP Regional Disability Scholarship
Download
(369.45 KB)

USP Regional Disability Scholarship
Download
(486.61 KB)