Team Pacific at the UN Climate Change Negotiations in Marrakech, Morocco: SPREP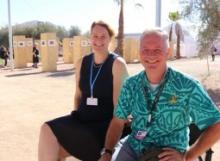 Mr Espen Ronneberg, the Climate Change Adviser of SPREP first started in the UN Negotiation Process in 1992. He saw the entry into force of the United Nations Framework Convention on Climate Change (UNFCCC), the Alliance of Small Island States (AOSIS) Protocol Proposal move through eventually becoming the Kyoto Protocol which was entered into force after the 7th Conference of the Parties and now, the Paris Agreement. He was a negotiator for the Marshall Islands for nine years, then worked for six years with the UN SIDS Unit providing advice to the AOSIS meetings, and then again with SPREP.
Q. What is your biggest challenge in the negotiations?
"It is to constantly keep up to date with developments and new reports and studies, also to be patient enough to stick it out."
Q. Who were your role models when you first started in this process?
"When I first started we had Ambassador van Lierop of Vanuatu and then Ambassador Slade from Samoa and there were a few other delegates as well who represented AOSIS members that were very inspiring.  I should also mention the mentoring role played by Robin Mauala of Samoa in guiding Pacific delegates in the diplomatic world at the UN."
 
Q. What advice do you have for other negotiators new to this process?
"Keep calm, cool, collected and study up on the various topics but try and concentrate on one area because you can't do everything. Also, try to learn something new every day."
 
The Climate Change Adaptation Adviser for SPREP, Ms Diane McFadzien first attended her first COP in Bonn in 1999 (COP5). She has attended the COP in different roles, as a member of the Cook Islands Government, with WWF and then now, in her capacity as a SPREP staff member.  She also attended COP6 as a member of the UNFCCC Secretariat in 2000. Throughout all of these, she has been accredited to the Cook Islands delegation, something she is very grateful for.