RAPID TECHNICAL ASSESSMENTS FOR TC HAROLD COMPLETE FOR TORBA PROVINCE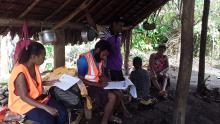 The Rapid Technical Assessments (RTA) for Torba Province have been completed this week. This was confirmed by the Provincial Disaster Officer for Torba Province Betsy Manliwos.
There are six assessment teams altogether who were deployed to various locations mainly targeting the islands of Gaua, Mere Lava, Vanua Lava, Mota Lava, Ureparapara and the Torres group.
The teams are comprised of members from the Wash, Health, Gender and Protection, education, Infrastructure, shelter and Food Security and Agriculture currently operating in the province, who have assisted with the technical assessments.
The Torba PDO has confirmed the province had received some initial assessment reports done by the Area Administrators, Community Disaster Committees and Community Liasing Officers in the affected areas that needs to be verified.
"The aim of this assessment is to verify the community assessments coming in from different islands around the province after TC Harold had passed," She said.
The teams left Sola the provincial headquarter of Torba province early last week. Assessment teams have already returned back in Sola this week.
The analysis of findings of the assessments is currently underway and reports of findings will be submitted to the Provincial Government by end of this week.
The assessment teams would like to thank the Torba Provincial Government who have supported the teams to successfully carryout the assessment exercise.
Torba province is considered less affected according to the aerial survey done just after TC Harold passed and this assessment is also very important to verify the real damage and the need on the ground to assist with response.
The PDO also confirmed that the assessment teams were also conducting awareness on COVID-19 and other sectors' key messages while visiting the different islands. 
Similar assessments for the highly affected provinces of Penama, Sanma and Malampa have now been completed while Shefa province is working on their assessment report this week.