Provincial Emergency Operation Centers continues to coordinate responses to TC Harold, Tanna Ash Fall and COVID 19 awareness raising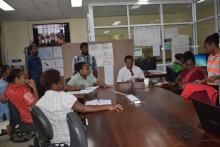 While the Provincial Emergency Operation Centers (PEOC) throughout Vanuatu are working together with Health working groups at the provincial level to carry out awareness on COVID-19 measures,  SANMA, PENAMA, MALAMPA, TORBA, and SHEFA provincial authorities are also coordinating responses for tropical cyclone  Harold.
The Tafea Provincial Emergency Operation Center is currently coordinating the response to the Tanna Ash Fall disaster which affected over 28,000 people particularly in the island of Tanna, while carrying out the COVID 19 awareness raising activities throughout the province.
This arrangement was confirmed by the National Disaster Management Office (NDMO) in its latest Situation Report No. 12 dated April 28, 2020.
For SHEFA and TORBA provinces the Rapid Technical Assessment (RTA) teams who conducted assessments on the affected areas within these provinces have also conducted awareness to the visited communities on COVID 19 measures.
The Shefa provincial disaster Officer, Eddy Maliliu has confirmed that the assessment teams have also conducted awareness on COVID-19 in the islands of Epi, Tongoa, Shepherds outer islands and Efate offshore. 
The Torba provincial disaster officer Betsy Manliwos had also confirmed that the assessment teams who went out to conduct assessments were also conducting awareness on COVID-19 and other sectors' key messages while visiting the different islands within the province.
Similar awareness activities for COVID 19 pandemic is currently underway for Sanma, Penama and Malampa provinces.
With all the response activities to TC Harold, the NDMO is currently coordinating with in-country humanitarian partners for immediate relief supplies for the most affected areas.   
The main guiding documents for TC Harold Response include the National Disaster Plan and the National Cyclone Support Plan which specifies cyclone preparedness and response arrangements for Vanuatu.