PM Loughman appeals to COP26 negotiators to priorities action over politics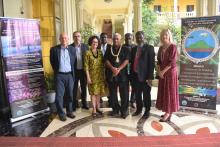 Vanuatu's Prime Minister (PM), Bob Loughman, has strongly appealed to all negotiators of the UN Climate Change Conference (COP26) to prioritise action over politics, resilience over economic gain, and justice over inequality.
In a few days, nations will be coming together in Glasgow, UK, to accelerate calls for urgent action to combat climate change and its impacts.
"I wonder if it will be little more than just talking. Talking to convince ourselves that we are succeeding when clearly, we are not," said PM Loughman. 
"Scrambling to plug the gaps in failed promises of climate finance, of loss and damage action, of science-based and rights-centered development.
"Vanuatu signed the Paris Agreement in 2015 expecting that every country would approach the climate crisis with all resources, technology, science and ambition, submitting National Determined Contributions (NCDs) that do not overshoot the 1.5 degrees goal.
"But current NCDs are taking us to beyond 2.7 degree, a world in which Vanuatu will not be able to equitably participate or serve its people.
"This climate emergency is devastating Vanuatu, taking with it our livelihoods, our natural resources, territorial integrity, our cultural identities, our human rights and even our lives.
"Human-caused climate change is undermining Vanuatu's right to sustainable development, and global efforts to protect planetary biodiversity and the future of our ocean.
"These grave climate injustices must stop by sustained, radical, and socially just cuts to emissions now, not later.
"To the world, Vanuatu will be watching from afar. We stand in solidarity with every woman, man and all of those who have suffered like us, the excruciating pain of the climate crisis."
The PM was speaking during the opening of a recent national Pre-COP26 High-Level Ministerial segment in Port Vila.
The Pre-COP event is a platform for Vanuatu's technical experts who will be participating at COP26 virtually, to refine and confirm Vanuatu's negotiation positions on mainly climate finance, mitigation, adaptation which includes loss and damage, gender and transparency under the UNFCCC.
Although Vanuatu will not be physically present at this year's COP26 due COVID-19 challenges, the event is a testament to the government's commitment to ensuring participation at UNFCCC proceedings.
The Minister for Climate Change, Bruno Leingkon, stated that he wants to see delegates apply pressure to parties who have not yet brought NCDs in-line with 1.5 degree pathway and push for decarbonisation by 2030.
"Adaptation is the top climate priority for Vanuatu. I request that you ask for more support to mainstream, integrate and implement National Adaptation Planning process, and start a robust process that will capture Vanuatu's progress on adaptation in the global stocktake," he said.
Leingkon wants negotiators to push for a fully operational Santiago Network on Loss and damage and to 
hold parties responsible for meeting the 100 billion USD per year commitment on climate finance.
He said the UNFCCC Transparency Framework must be strengthened for transparency thus, call for comprehensive common tabular formats and reference tables.
The minister told the delegates to seek support from other Pacific islands, regional and international partners on Vanuatu's campaign of bringing the issue of climate rights to the International Court of Justice. 
Speaking on the expectations for COP26 outcomes, the British High Commissioner in Vanuatu, Karen Bell, said as the Presidency of this year's COP, UK's priorities are mitigation, adaptation, finance and collaboration.
UK is hosting COP26 in partnership with Italy.
The need for urgent, collective action has never been clearer, she said."As one of the most climate vulnerable countries in the world, Vanuatu and other Pacific countries have a vital role in making more moral case for ambitious action. It matters enormously to us that your voice is heard," she said.
"...COP26 is not a photo opportunity or a talking shop. It must be the forum where we put the world on tract to deliver the Paris Agreement.
"Responsibility rests with each and every country. And we must all play our part. Because on climate, the world will succeed, or fail as one."