Pacific youth need action on climate change, Vanuatu PM says, as leaders seek to appeal to world's highest court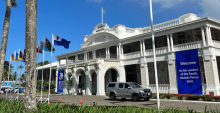 Vanuatu's Prime Minister has criticised the slow pace of international negotiations to reduce carbon emissions as "totally out of step" with the threat facing Pacific Island nation.
Bob Loughman is pushing to take climate change to the international court, rallying 15 Pacific Island leaders who have come together in Fiji this week for the Pacific Islands Forum. 
"Young people simply cannot wait," he said, referring to the need for world leaders to take urgent action on climate change.
The forum has discussed how to increase international support and funding to fight the impacts of climate change, as well as China's ambition for greater security ties across the region.
Mr Loughman said the world's highest court, the International Court of Justice (ICJ), could play a key role in compelling states to protect future generations from climate change impacts. 
He said an advisory opinion issued by the ICJ would also help boost funding for Pacific Island countries to rebuild communities affected by sea level rise.
Source: https://www.abc.net.au/news/2022-07-12/pacific-youth-need-action-on-climate-change-vanuatu-pm-says/101232054