Opportunity for Youth in SIDS to Attend International Civil Society Week in Fiji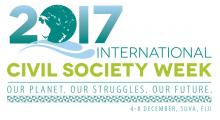 For the first time, Fiji is hosting the International Civil Society Week (ICSW) co-organized by CIVICUS and PIANGO. ICSW is a key global gathering for civil society and other stakeholders to engage constructively in finding common solutions to global challenges. One day before, Monday 4 December, international and local youth delegates committed to social and climate justice will be gathering in the Youth Assembly for a full day of enriching discussions, workshops and artivism under the theme "Our Planet. Our Struggles. Our Future".
Deadline: 1 September 2017
Grants Information
10 grants of 2.500 Euro
4 grants of 5.000 Euro
2 grants of 7.000 Euro
Eligibility Criteria
Candidates should be young people who work or are affiliated with environmental CSO's in developing countries and emerging economies.
Candidates should have shown potential for and interest in further developing their leadership.
Candidates should be individuals under 35 years of age.
Candidates should have proof of an excellent track record in: fully embracing the idea of sustainable development with a focus on ecological sustainability; being committed to working for the CSO sector; showing potential and ambition towards becoming a leader in his/her field of work, such as being inspirational to others, working with communities, etc.
Self-nominations are not accepted by JWH Initiative.
How to Apply
Applicants must download the nomination form via given website and submit the required documents:
A completed nomination form
A copy of the candidate's CV
A recent digital picture of the candidate that clearly shows the face (front view)
For more information, please visit JWH Initiative Grants.