New USAID Project launched in Tanna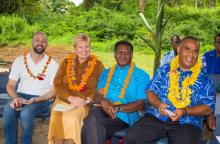 On 27 January 2017, the Lonamilo community on Tanna celebrated the opening of a new USAID funded evacuation centre with a delegation from Port Vila.
The delegation to the USAID Coastal Community Adaptation Project (C-CAP) inauguration ceremony included the US Ambassador to PNG, Solomon Islands and Vanuatu Catherine Ebert-Gray, C-CAP Chief of Party Nick Hobgood, the Minister of Climate Change Ham Lini, and the Minister of Infrastructure and Public Utilities Jotham Napat.
In the opening remarks, Chief Iaman Ialulu said that 14 tribes will benefit from the project, noting that it is a huge achievement for these communities and thanking the government of the Vanuatu and the United States for helping with Cyclone Pam recovery efforts.
C-CAP began community consultations in mid-2013 with 10 Vanuatu communities, which convened in groups to identify the risks that they had been experiencing through the years, such as cyclones, droughts, and food security.
The evacuation centre is also equipped with rain water catchment capability to store water for use during times of long dry seasons and droughts.
Nick Hobgood said Cyclone Pam showed once again that the people of Vanuatu are strong, but at the same time emphasized the need for additional support for climate adaptation to help build resilience in communities.
Catherine Ebert-Gray said that Vanuatu is one of the world's most susceptible nations to natural disasters, but reiterated the United States government's commitment to support Vanuatu and other Pacific nations in achieving their development goals and increasing resilience to climate change by building capacity in disaster prevention preparedness.