The New Simplified Approval Process (SAP) of the Green Climate Fund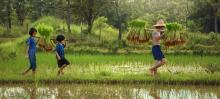 GCF has introduced a new application process for smaller-scale projects or programmes:
Do you have a project that is ready for scaling up, and has the potential for transformation to adapt and/or mitigate to climate change?
Does it require a GCF contribution of up to USD 10 million?
Are the environmental and social risks and impacts minimal?
If so, your proposal could benefit from the Simplified Approval Process.
The GCF Secretariat is inviting Accredited Entities, National Designated Authorities (NDAs) or Focal Points to take advantage of this opportunity. The GCF Secretariat also encourages partners to coordinate with NDAs and Accredited Entities in submitting concept notes, or to contact the GCF Secretariat for more information.
Visit the UN CC:Learn webpage for information on a webinar series on the subject scheduled to take place multiple times between 19 March and 1 August.
Download the Simplified Approval Process Brief or visit the Green Climate Fund webite for details.