NDMO RESPONSIBLE FOR RETURN TRAVELS OF TC HAROLD MEDIVAC PATIENTS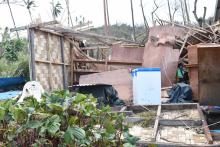 NDMO acknowledges the kind gesture by the Brothers for Life (B4L) members who helped made it possible for the Santo family to go home last Friday.
NDMO Director Abraham Nasak advised during a disaster response, people who are medivac to the main hospital for medical assistance due to injury sustained during the cyclone is part of the disaster response and the government is responsible for their repatriation.
The family from South Santo that had their plane tickets paid for by the Brothers for Life (B4L) were part of a group of 17 victims flown to Port Vila for further medical attention after TC Harold passed.
Russel Tamata as Director of Corporate and Planning Services at the Ministry of Health reiterated that as for the rest of the group, the Health and NDMO Logistic teams will work closely to make sure all return arrangements are met so patients can reach home safely.
Director Tamata advised there was a communique sent to the Director General for the Ministry of Health and the Director of Vila Central Hospital last Friday concerning the travelling of TC Harold Victims that were medivac to Port Vila. The content of the document states the process for the repatriation of TC Harold victims will be met by the NDMO.
"The process is when the patient is discharge, the VCH administration gives all the details of the patient to the Health Logistics team, who then passes on to NDMO to cover the costs so the patient can return home," he said