NDMO BEGINS DETAILED LOSS AND DAMAGE TECHNICAL ASSESSMENT FOR TC HAROLD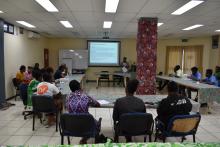 The National Disaster Management Office (NDMO) has deployed more than 30 assessment team members for the detailed sectoral assessment for Tropical Cyclone (TC) Harold this week. This is mainly for sectors to carry out detailed technical assessments on loss and damage caused to their sectors.
The objective of the NDMO is to reduce information gaps and improve current response priorities.
With that, the objective of the assessment is to have multi-disciplinary teams go out and        collect detailed information on medium and long term impacts within affected areas, as this information will be useful to NDMO to improve its current response priorities.      
NDMO advised the findings of the detailed assessment on loss and damage caused by TC Harold by different sectors will provide necessary recommendations for further response from the national government.
NDMO on behalf of the national government is working closely and in collaboration with all Clusters in Vanuatu to carry out this detailed assessment.
Zoe Ayong, Senior Research and Planner at NDMO confirmed the assessment teams were deployed on Wednesday 13 May to the affected provinces according to the current plan put together by NDMO.
"All 11 teams departed Port Vila on Wednesday 13 May and will return on Wednesday 20   May after spending a week in the field to do detailed assessments," she said.
A briefing session for all assessment teams took place on Tuesday 12 May, purposely to brief them on what is expected from the assessment and on logistics arrangements.
The Cluster groupings represented in this assessment teams are Wash, Health, Gender and Protection, Emergency and Telecommunication (ETC) and Food Security and Agriculture (FSAC).
The assessment teams will be conducting detailed assessments in all affected areas within the islands of Malekula, Ambrym, Maewo, Pentecost, Ambae, Santo, Malo, Aero, Epi and Emae.
NDMO also confirmed currently other Clusters such as Education, FSAC and Shelter have already conducted similar detailed assessments in the affected islands as part of this whole exercise.