National Clean-up Day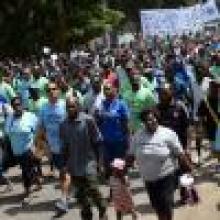 As citizens of Vanuatu, everyone is held responsible for the health of our planet and must think carefully how our every day choices and actions contribute to the well-being or deterioration of the environment.
From the cars and to the products produce, everyone must participate to creating a healthy, safe and secure environment where everyone can work and live with a peace of mind, Prime Minister Charlot Salwai, stated this yesterday to mark the first National Clean-up Day in Port Vila.
"Human activities associated with industrialization, deforestation and technological changes are influencing the environment and the survival of all organisms as well as development growth.
"Different environmental pollution as air, water, land and noise are putting the health of all people and animals at risk. They damage the natural ecosystem.
"In Vanuatu, the increase on the use of plastic is greatly affecting nature.
"The number of vehicles continue to increase causing more air pollution.
"It is very important that the public must understand the effects of pollution and fight against its impacts to secure our environment.
"Everyone should stop depending on the government but to take necessary steps to reduce pollution.
"I am encouraging everyone to change their behaviors on managing waste to keep the towns and communities less harmful whilst clean at all times," he stressed.
PM Salwai called on the organizers to make the national clean up day a regular event to keep Port Vila clean.
He applauded the Deputy PM and Minister of Trades, Joe Natuman, and ministers Ralph Regenvanu and Gaetan Pikioune and MPs Kalo Seule and Johnny Koanapo, Deputy Lady Mayor and councilors, directors and staff from various government departments and NGOs, hotels and restaurants and school children for joining the parade yesterday.
Sponsors were also acknowledged for making the day a success.
The national clean up day kicked off on Thursday with tree planting at Tagabe Water Pump Station.
The event coincided with the World Ozone Day and the National Persistent Organic Pollutants Day.
To end the program yesterday, organizers awarded Central School as the best clean school in Port Vila.
The community of Simbolo was awarded best clean community while Tafea Province scooped the provincial centre award.