MSG SECRETARIAT PROVIDES ASSISTANCE TO TC HAROLD.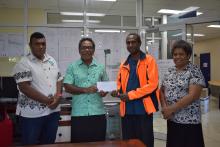 The Melanesian Spearhead Group (MSG) Secretariat had donated an amount of 300,000 Vatu towards the emergency response to Tropical Cyclone (TC) Harold in Vanuatu.
The Acting Director General of the MSG Secretariat George Hoa'au and his staff presented this amount to the Director of the National Disaster Management Office (NDMO) on Wednesday this week in Port Vila.
In giving his brief remarks at the handing over ceremony, Mr. Hoa'au stated that, the MSG Secretariat appreciates Vanuatu's continuous support to the MSG Secretariat and its programs and activities to the sub-region, it shows the ongoing cordial relationship between the MSG Secretariat and the Vanuatu Government especially in being able to assist each other during disaster times.
"We appreciate the relationship and contributions our Members including Vanuatu have developed over the years and we see this as an opportunity to give something back to our people in Vanuatu who are affected by TC Harold. This funding is from a special relief pot created after the cyclone PAM," he said.
The NDMO Director Abraham Nasak thanked the Acting Director General, Mr. Hoa'au for the money donation and on behalf of the Vanuatu government assured them that the funds will go towards assisting those communities affected by TC Harold.