Improving Climate Communication for Communities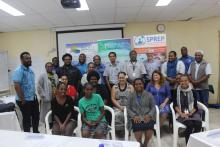 A Media and Stakeholder Workshop was held on the 3rd‐7th of July at the Vanuatu Meteorology and Geo-hazards Department (VMGD) at the Ministry of Climate Change. The 4-day workshop aims to build capacity of the VMGD Climate Officers, raise awareness of VMGD products and services and to collect feedback on them, and strengthen collaboration with the VMGD and the media community. It was attended by 21 participants from across different divisions of the VMGD, other government departments, NGO representatives and members of the Vanuatu media.
The workshop was hosted by the Secretariat of the South Pacific Regional and Environment Program (SPREP) and the VMGD, and was funded by the Australian Government through the Climate and Ocean Support Program for the Pacific (COSPPac) Project.
The  workshop also accumulated in the development of the VMGD Communication Strategy and Communication Plan for the Climate Division. This will be used and implemented for the Climate Division but will be expanded over time to cover all the activities of the VMGD.
SPREP and COSPPac have previously funded VMGD staff to attend a Communications Training Workshop in Nadi, Fiji in May 2017 to further develop their capacity in communications and community outreach.
The workshop was facilitated by Toss Gascoigne and Jenni Mecalfe of Econnect Communication Pty Ltd, based in Brisbane, Queensland.
By Climate Division, Ministry of Climate Change Adaptation