DISPLACEMENT TRACKING ASSESSMENTS UNDERWAY IN ALL AFFECTED ISLANDS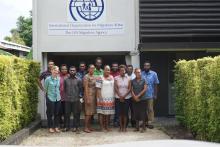 The National Disaster Management Office (NDMO) and the International Organisation for Migration (IOM) are undertaking displacement tracking assessment in all affected islands to support the TC Harold response phase.
This assessment is aimed to understand the locations, movements and needs of the displaced people in the affected islands of Santo, Malo, Aore, Pentecost, Ambrym and Malekula with support from the United Nations Central Emergency Relief Fund (CERF). 
Following an intensive training session at the IOM office last week, the team departed to Santo where they will split into four teams and have further enumerator trainings before conducting key informant interviews, household interviews and damage assessments of evacuation centres.
The teams aim to visit 190 evacuation centres and other displacement sites, as well as conducting interviews with people who have returned to their land without shelter or staying with host families and relatives.
Displacement tracking teams also aim to capture information about an estimated 9,461 displaced people against the baseline of displaced people at end of April 2020.
Displacement tracking targets populations most severely affected and most in need, including those with pre-existing vulnerabilities including the elderly, people with disabilities and single/child and female-headed households.
The teams are being coordinated through the newly established Displacement and Evacuation Centre Management Cluster aimed at improving coordination of services and protection to displaced persons living in communal settings.
The data collected will inform the NDMO's detailed assessments of the impacts of TC Harold and also be shared with partners to ensure that the most vulnerable are prioritized for interventions such as emergency shelter, health, nutrition and WASH.
Many partners are collaborating together to make the displacement tracking possible, including IOM, NDMO, ADRA, Department of Local Authorities through the Area Councils, Area Administrators, Area Secretaries, Ministry of Justice and Community Services and Vanuatu Red Cross, VCC and OXFAM.
The displacement tracking assessment have already started on Tuesday 19 May in the island of Santo and will complete by June 7, 2020 with the island of Malekula.