Critical Ecosystem Partnership Fund Call of Proposals 2017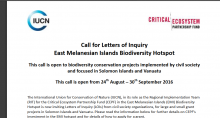 Call for Letters of Inquiry
East Melanesian IslandsBiodiversityHotspot
This call is open to biodiversity conservation projects implemented by civil society in Solomon Islands, Vanuatuand the islands region of Papua New Guinea
This call is open from 8September to25 October 2017
The International Union for Conservation of Nature (IUCN), in its role as the regional implementation team (RIT) for the Critical Ecosystem Partnership Fund (CEPF) in the East Melanesian Islands (EMI) Biodiversity Hotspot isnow inviting letters of inquiry (LOIs) from civil society organizations, for large and small grant projects in Solomon Islands,Vanuatuand the islands region of Papua New Guinea. Please read the information below for further details on CEPF's investment in the EMI hotspot and for details of how to apply for a grant.
The Critical Ecosystem Partnership Fund (CEPF) is designed to safeguard Earth's biologically richest and most threatened regions, known as biodiversity hotspots. CEPF is a joint initiative of l'Agence Française de Développement, Conservation International, the European Union, the Global Environment Facility, the Government of Japan, the John D. and Catherine T. MacArthur Foundation, and the World Bank. A fundamental goal is to ensurecivil society plays a critical role in achieving biodiversity conservation outcomes.
Background
CEPF's niche for investment in the East Melanesian Islandswas formulated through a participatory process that engaged civil society, donor and governmental stakeholders throughout the region. The results of this process and the eight-year (2013-2021) strategy that CEPF has identified for supporting biodiversity conservation in the region are outlined in the Ecosystem Profile. Five strategic directions were identified, covering 20 Key Biodiversity Areas (KBAs) in the three countries that are eligible for CEPF support, and addressing threats to 48 priority species.The CEPF investment strategy supportsbiodiversity conservation in ways that deliver significant, meaningful benefits to local communities, while making a sustained contribution to the development of local, national and regional capacity for conservation.
It is essential that applicants familiarizethemselves with the investment strategy for the East Melanesian Islands Hotspot, which is contained within the ecosystem profile(3.9 MB).
Applicants are advised to carefullyreviewother references available on the CEPF and IUCN Oceania websites when preparing their LOIs, specifically:
-Frequently asked questions
-How to apply
-Tipsfor getting your grant funded
-CEPF projects database
-CEPF safeguard polices
Please note that preference will be given to projects that are the closest fit to the investment strategy and
demonstrate a leading role for local civil society organizations. IUCN and CEPF particularly welcome applications from local and grassroots organizations (for example community groups,faith-based organizations, nonprofit organizations, academic institutions and privatecompanies). Individuals are encouraged to work with civil society organizationsto develop applications, rather than to apply directly. Anyone who is uncertain of their eligibility to apply for CEPF funding should contact the RIT at cepfeastmelanesia@iucn.org