CONTAMINATED TINS DISTRIBUTED IN TANNA WILL BE REPLACED: NDMO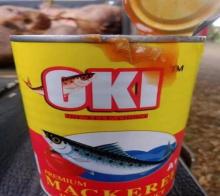 The National Disaster Management Office (NDMO) had confirmed contaminated OKI tin fish distributed to some of the affected communities in Tanna due to the Yasur Ash Fall will be replaced soon.
NDMO had received a report from the distribution team in Tanna, confirmed distribution of food supplies as part of response to Tanna Ash Fall disaster involved contaminated OKI-Tin Fish.
According to the report, NDMO purchased 80 cartons of the OKI brand Tin Fish from HXM store in Port Vila. So far 62 cartons have already been distributed mainly to zone 1 communities, which covers Louiepeng, Enimakel, Sulphur Bay, Isaka and Imaio areas in South East Tanna.
The Tafea Provincial Emergency Operation Center (PEOC) had a meeting with all Area Secretaries and Health team in Tafea province to work closely with chiefs and their people to collect back those brand tin fish to the PEOC immediately.   
NDMO confirmed that currently the Provincial Disaster Officer and Area Secretaries are now working together to collect back the contaminated tins for replacements.                          
The Health Team in Tafea advice communities concern to report and return those tins to the PEOC and that concern authorities must consider the matter seriously to not happen again in future.
NDMO wish to apologies to those communities receiving the contaminated tin fish and assured them that those contaminated tins will be replaced soon.