Communities informed on Tsunami Risks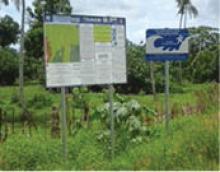 Last year and this year saw the installation of tsunami warning systems around Port Vila and Luganville.
These activities were possible through the Japan-funded project MDRR (Mainstreaming Disaster Risk Reduction) that recognises Vanuatu as a vulnrable country to the tsunami natural disaster. The installation of these tsunami warning signs aims to help our urban population prepare for tsunamis.
In January this year, 9 tsunami sirens were installed on Efate Island which included Eratap, Erakor, Pango, Ifira point, Blacksands, Mele, VMGD office, Seafront area and at Tassariki. There were
also 10 tsunami sirens installed in Luganville and Aore island.
For more information, you may visit the nab portal or contact Florence Iautu at the Ministry of Climate Change, Project Management Unit.
By Morris Harrison Geohazards Division