Climate Change Postgraduate Programmes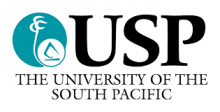 Are you worried about climate change and natural hazards? What are you doing about it? With the postgraduate programmes we offer in climate change, you can make a difference! The Pacific Centre for Environment & Sustainable Development (PaCE-SD) at The University of the South Pacific is offering the following post-graduate programmes for semester 2 2017:
POSTGRADUATE DIPLOMA IN CLIMATE CHANGE (PGD-CC)
A Postgraduate Diploma in Climate Change is available for degree-holders who may wish to gain further knowledge in a particular area. This PGD-CC will be relevant to those engaged in planning for natural resources, economic and social development, and/or the natural environment, especially graduates working for governments or NGOs and are looking at enhancing their understanding of climate-related issues. Completion of a PGD-CC would normally take one year full-time study and requires the successful completion of four 400-level courses. Part-time study is also available.
Postgraduate Courses Offered by PaCE-SD
You can enroll in the PGD-CC programme for the first semester and choose the following courses:
| | |
| --- | --- |
| Course Code | Course Title |
| PC415 | Climate Science |
| PC425 | Environment Impact Assessment & Strategic Environmental Assessment |
| PC426 | Ecosystem-Based Adaptation for Climate & Disaster Resilience |
All courses offered by PaCE-SD are available online under its PGD-CC Programme; so you can study from anywhere!
MASTER OF SCIENCE IN CLIMATE CHANGE (MSc-CC)
A Master's programme is suitable for those interested in pursuing a science-based career. MSc usually involves a substantial individual research project on a chosen topic. A Master's programme usually takes a year as full-time study. Part-time study is also available.
DOCTOR OF PHILOSOPHY IN CLIMATE CHANGE (PhD-CC)
Study at PhD level is primarily for those who wish to pursue a research-based or academic career. The degree is entirely made up of research-based activity and a thesis is submitted on completion. A PhD normally takes three years full-time study, but part-time study is also available.
Postgraduate application forms can be obtained from your local USP Centre or downloaded from http://www.usp.ac.fj/forms.
All admission application can be sent through this email address: pacesdadmissions@usp.ac.fj and for further enquires please do contact Mr Filipe Veisa, email: veisa_f@usp.ac.fj
Application forms to be received by 3 July 2017.