CLIMATE CHANGE & CONSERVATION NETWORK ESTABLISHED IN REMOTE WEST COAST SANTO, VANUATU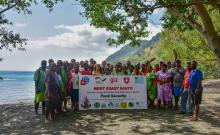 The chiefs and people of West Coast Santo have commenced the West Coast Santo "Sunset" Environment Network, a historical commitment by all of the remote villages along Santo's rugged West Coast to manage and protect natural resources for sustainable and resilient livelihoods.
West Coast Santo could be considered a "forgotten" part of Vanuatu, with no roads, no mobile phone networks up until August 2017, and few government or non-government services.  Located on the far side of Vanuatu's highest mountain chain, it receives some of the lowest rainfall in the country and suffered agricultural devastation during the 2015/2016 El Nino drought.   
In response to its extreme vulnerabilities, the Ministry of Agriculture & SANMA Province with the support of a Swiss-German SDC-GIZ food security program, IUCN-CEPF and the Edenhope Foundation, began in January 2017 what has become a hugely successful resource management and disaster risk reduction program. 
From 21-25 August, West Coast leaders including paramount chiefs, church elders, conservation chairpersons, youth presidents and recent graduates gathered to learn, discuss and identify solutions related to climate change, food security, natural resource management and sustainable living. 
The issue of drought, and its implications on food and water security, emerged as one of the most severe challenges facing the area.  However, with the combined local expertise from over 15 villages, dozens of traditional and modern solutions were shared, recorded and even practiced during the week.  For example, staff from the Ministry of Agriculture & SDC-GIZ program built and demonstrated the use of a solar dryer for preserving foods for use during droughts.  During the week, participants were able to dry and taste root crops, bananas, cucumber, coconut and even papaya which can be stored for over 1 year and used as disaster recovery foods.  Six villages and three primary schools have already received food dryers and training from GIZ. 
A major result of the summit was the agreement that conservation is one of the most effective climate change adaptation strategies for West Coast Santo.  Chiefs told of how improper management of the forest and watershed areas led to their rivers and creeks going dry during the El Nino drought, while those communities which had protected their forests had a continuous supply of drinking water.  Many villages on West Coast Santo already have traditional taboos over natural resources and several communities on have already registered their Conservation Areas with the Government, like Penouru, and Edenhope Preserve.   Conservation not only supports sustainable livelihoods for villagers, but it addresses the loss of biodiversity now being experienced around the world.  The International Union for the Conservation of Nature (IUCN) even designated the Santo Mountain Chain as one of Vanuatu's top biodiversity hotspots. 
Department of Livestock co-facilitator Darryl Maseng shared his experiences with environmental management and food security: "pigs have been on West Coast Santo as long as people have, and our environment has changed as a result of both.  Now, with climate change, it is even more important to manage the activities of both so that we do not lose the environmental support systems that sustain us."
Sero Isaiah, co-facilitator from the Forestry Department reminded participants that "our trees are our life, they provide clean air, food, building materials, medicine and regulate our water supply."  He explained how through new Government and NGO REDD+ carbon credit mechanisms, communities in Vanuatu have started to avoid unsustainable deforestation that exacerbates climate change.
What truly made the event special was the hosting by Tasmate village, which works in close partnership with the Edenhope Nature Preserve.  Fresh, local vegetarian food was offered to participants as an alternative to imported processed foods.  Many of the green vegetables served were grown by local schools through garden support by MALFFB and GIZ.  Co-facilitators Devi and Mitrea shared the Edenhope philosophy that "Our land is a gift from God that we care for and nurture, bringing forth an abundance of fruits and vegetables to feed and nourish our community and each other, and how life can be lived fully as an expression of love, awareness and devotion." Edenhope provided the workshop space complete with woven bamboo walls and tables and benches made with offcuts from sustainably harvested timber. 
During the discussions, participants were treated to stories of how other communities around Vanuatu are joining together and forming Networks to better manage natural resources.  Willie Kenneth and Tatu Whitely shared their experiences in managing the Nguna-Pele Marine and Land Protected Area Network, while IUCN-Department of Environment officer Vatu Molisa shared his extensive knowledge of the Vanua'Tai national Network and the Amal-Crab Bay Network in Malekula.  Mr. Molisa also explained how Community Conservation Areas can be registered with the Government to bring more benefits to communities interested in natural resource management. 
Inspired by the climate change and conservation work that is already happening on the West Coast of Santo, and motivated to continue working together to secure a sustainable and resilient future for its people, chiefs and leaders announced plans to formally launch the Santo "Sunset" Environment Network. 
With continued support of the Ministry of Agriculture, IUCN-CEPF, the Swiss-German SDC-GIZ program and Edenhope Foundation, the next West Coast Santo Network event will be held from 22-25 November 2017.  Chiefs have planned for November a "Food Security & Conservation Festival" which will see participants showcasing their locally preserved foods as well as reporting progress on the establishment of conservation areas and resource management plans.
For more information, contact VanuatuClimateChange@gmail.com or visit https://www.facebook.com/climatechange.vanuatu