Call for Applications: Climate Finance Workshop for Community Adaptation Practitioners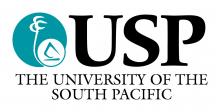 USP will be hosting its first-ever Climate Finance Workshop, a join initiative between the USAID's Adapt and Climate Ready Projects. Drawing on the 6-years experience of the USAID Adapt Asia-Pacific project, which specializes in assisting with the preparation of adaptation projects, the workshops will cover important aspects of the landscape of climate finance then look into the practicalities of developing an adaptation project.
The workshops utilize examples drawn from approved projects from the Adaptation Fund, Green Climate Fund, and several other financiers. Participants may choose to bring a project concept or idea, and further develop it during the workshop.
See attachment for details.