New Mobile Phone App to Assess Food Security after Cyclone Pam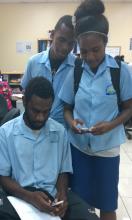 New Mobile Phone App to Assess Food Security after Cyclone Pam
19 June 2015
The National Disaster Management Office, in partnership with the Ministry of Agriculture, SPC/GIZ and UNDP, has recently launched a post-cyclone vulnerability assessment.  The goal of this assessment is to understand what residual vulnerabilities and food security risks still exist throughout the islands after nearly 3 months of Cyclone Pam relief and early recovery activities.   The assessment will also capture the potential food security risks of the El Nino drought warning.
Innovatively and unlike any other information gathering exercise ever conducted before in Vanuatu, this assessment fully uses a mobile phone app which means that no paper forms are used, anyone with a smart-phone can participate, and results are automatically analyzed. 
Today a team of 30 ni-Vanuatu agricultural experts will travel to all cyclone affected islands and areas and use the mobile phone assessment app to understand how communities have been recovering and how they will cope with coming drought conditions. 
In addition to the app, Digicel customers are able to participate in an abbreviated version of the survey by texting START to 176. For no charge, users will have a chance to answer two multiple-choice questions regarding their food security status. 
Any interested agencies or organizations are welcome and encouraged to participate in both the mobile phone app assessment and the Digicel SMS survey.
For more information, contact the Food Security, Risk and Resilience Team at fsacreport@gmail.com or by calling 29594.