Local, Provincial and National Governments Unite to Tackle Port Vila's Climate Resilience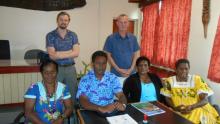 Lord Mayor Ulrich Sumptoh, Ministry of Climate Change Director General Jotham Napat and Shefa Provincial Government Secretary General Michel Kalworai are spearheading a reinvigorated effort to plan for climate change in the Greater Port Vila area, with the aim of enhancing the city's resilience to future climate changes, as well as the threats posed by existing climate variability such as Tropical Cyclone Pam.
The partnership of municipal, provincial and national governments was cemented on Wednesday 14th October 2015, with each organization formally endorsing the UN-Habitat Greater Port Vila Climate Vulnerability Assessment Report. The project will now move into a second phase through community-level consultations in early 2016, with the aim of developing an Urban Resilience and Climate Adaptation Plan for the city and surrounding urban areas in Shefa province.
At a signing ceremony at the Port Vila Municipal Council headquarters the Lord Mayor, supported by Deputy Lord Mayor Mrs Leimara Malachi, said "the time is now right to move to the next step of this process", on hold since March due to the recovery effort in response to Cyclone Pam.  The drought conditions currently affecting much of Vanuatu were noted by those councilors present at the meeting as adding urgency to the development of a strategy for Port Vila, which will include analysis of the city's sole water supply.
Development of the plan will be facilitated by RMIT University's Professor Darryn McEvoy and Alexei Trundle, who recently concluded similar consultations in Honiara and authored the Port Vila Climate Vulnerability Assessment.
The full report is available online on the UN-Habitat Cities and Climate Change Initiative website, with hardcopies available at PVMC and the National Advisory Board for Climate Change and Disaster Risk Reduction (NAB) Secretariat at the Vanuatu Meteorology and Geo-hazards Department (VMGD) office in Port Vila.
For further information contact Alexei Trundle: alexei.trundle@rmit.edu.au