2015 El Niño is now well established: Prepare for drought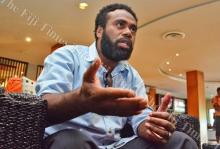 The Climate Division of the Vanuatu Meteorology and Geo-Hazards Department (VMGD) is now confirming: El Niño is now well established with all ENSO indicators pointing to a mature El Niño event to last until first quarter
of 2016. VMGD Climate Division head , Philip Malsale states, 'Even though we have seen some rain over the past few weeks, we still need to be preparing for low rainfall in the coming months." "Its normal to have a three month lag time from the start of an El Niño until the time you will actually see the impacts on ground here in Vanuatu" Mr Malsale said.
In June, rainfall was below normal across most of Vanuatu including Sola, Pekoa, Port Vila, Whitegrass and Aneityum, with just 2 stations (Lamap and Bauerfield) recording normal rainfall. In July, Vanuatu saw an increase in rainfall especially in the TAFEA province where Whitegrass and Aneityum were wetter than average. In contrast, below normal rainfall was recorded at Port Vila, Lamap and Pekoa stations, while Bauerfield and Sola received near-normal rainfall. Mr. Malsale cautions community not to be fooled by the rainfall Vanuatu has experienced over the past few weeks
because it was caused by short term factors affecting weather and not climate events. Mr Malsale explains "The fact is the El Niño is a climate event and the current one will peak in October to December 2015 so the impact will be slowly felt as time progresses. The main risk facing Vanuatu is that of poor wet season rainfall, with drought a distinct possibility until at least March 2016. Let's not forget that the effects of suppressed rainfall accumulate slowly, unlike a tropical cyclone where impacts are immediately visible after warnings." "We are providing this information in advance so people living in Vanuatu can prepare better given that the rainfall outlook until November is forecasting below normal rainfall across the country. What it means is Vanuatu will still receive rainfall but will be below normal. Bear in mind that our preparation now will not only be for this El Niño event but also for the upcoming cyclone season. Research shows that El Niño event does not make any difference to the number of cyclones occurring in Vanuatu but can lengthen their survival in our area of responsibility" Mr Malsale said.
People are advised to collect and save rain water in water tanks and drums and continue to plant crops that are resilient to drought. Although the situation is currently manageable, VMGD advises that communities take this information seriously and proactively respond to the challenges of an El Niño event.The impact of the current El Niño event is now being experienced by countries like Fiji and Papua New Guinea and we need to be better prepared. The Vanuatu Meteorology and Geo-Hazard Department wishes to inform the general public to take seriously the information release from the department and act while things are still ok.
Information will be made available through the website (www.meteo.gov.vu) and widely circulated through the monthly Vanuatu Climate Update bulletin. To obtain further information, request copies of the Vanuatu Climate Update, find online copies of ENSO Handbook and Klaod Nasara DVD, or for specific planning advice, please contact the Climate Division of Vanuatu Meteorology and Geo-Hazards Department or related departments. The Department, alongside its partners including the Climate and Ocean Support Program in the Pacific (COSPPac), implemented by the Australian Bureau of Meteorology and the National Institute of Water Atmospheric Research (NIWA) in New Zealand, will continue to carefully monitor the El Niño situation.
More detailed interpretations of regional climate fluctuations will be generated monthly by the Climate Division. For further guidance please contact:
David GIBSON, Director, Vanuatu Meteorology and Geo-Hazards Department (VMGD), Telephone 24686, Email: dgibson@meteo.gov.vu
Philip Malsale, Manager, Climate Division (VMGD), Telephone: 24686, Email: malsale@meteo.gov.vu