"DON'T WALK INTO THE FUTURE BACKWARDS!"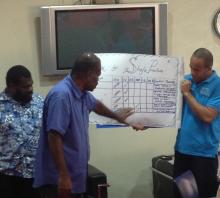 "Don't walk into the future backwards," warned Katty Napwatt, Torba Province's charismatic Secretary General, referring to plans that only look at past experiences without strategic forward planning for the future.
Fifty five participants from Provincial Governments, Vanuatu Government Line Ministries, Non-Government Organisations (NGOs) and sector partners involved in emergency and disaster response were gathered for a Government of Vanuatu funded workshop through the IRCCNH Project administered by the World Bank with funding support also from Vanuatu Humanitarian Team (VHT) workshop to prepare a five year Strategic Plan for the National Disaster Management Office (NDMO).
Michael Kalworai, Secretary General commented "So often Provincial Government is not invited to meetings like this. How can planning not involve us when it is provincial governments and communities who will be called upon to put the plans into action – especially in the area of response, relief and recovery initiatives in times of  disasters like Cyclone Pam and especially as we look now to the "slow-onset" disaster of El Nino."
To ensure provincial and community voices were heard, all Provincial Secretaries General, Provincial Government Planners and the Provincial Disaster and Climate Change Officers, the latter positions currently funded by donors such as Australia and the World Bank were invited.
"One of the issues discussed that faces the National Disaster Management Office's clear role is one of coordination, not delivery which is a common public and many Government agency misconception. Its resources are too few," emphasised Shadrack Welegtaabit, Director (NDMO).
Jotham Napat, Director General of the Ministry of Climate Change of which the National Disaster Management Office is a part, pointed out, "Cyclone Pam had some unexpected benefits. One of those was the focus on the NDMO and its lack of budget and human resources. How can the NDMO provide disaster and emergency response with an annual budget for operations of only 6.2 million vatu and a staff of 9 people? Clearly budget allocation must increase and a restructure of NDMO is essential with a stronger focus on provincial response capacity. Most importantly of all, strategic use of shared resources between the private sector, donors, NGOs and Government agencies. We need to think and plan collaboratively and co-operatively for NDMOs Strategic Plan to be sensible, do-able and operational."
The Workshop looked at initiatives that gave the NDMO outreach and delivery by coordinating and mainstreaming Disaster Risk Management (DRM) and Climate Change responses with its sector partners, using the Lessons Learned Cyclone Pam to look backwards and then look forwards over the next five years. Utilising traditional coping strategies, the good will and input of the private sector and private individuals as well as their NGO and donor partners as recognised as essential for strategic use of combined resourcing.
DG Napat reiterated "All of you gathered here today representing the provinces are a doorway  through which information, resources and assistance passes to the 76% of people who live in rural areas. We need to devise a Strategic Plan for the National Disaster Management Office that will provide the enabling framework of a sensible, practical Strategic Plan that will provide the framework for NDMO operations in emergency and disaster response. Emi taem long digim bren (it's time to use our brains)."